In Homers you will find the necessary support to plan together your cohousing, using housing solutions which are customized, cheaper, more free, more ecological, more beautiful and with more common spaces and services.
Old buildings, new residents: we reuse abandoned historic buildings to combine quality of life and innovation.
we locate abandoned assets
for which we imagine together a new future.
elements of potential urban decay become ingredients of urban regeneration.
we build communities of cohousers
with which we design shared spaces and services.
we guide future cohousers
throughout the real estate development process.
we build beautiful, ecologic, custom-made and collaborative cohousing
in which everyone can find their own dimension.
Homers will identify the property and will either option it or pre-acquire it
Homers will find future cohousers interested in the cohousing project
Homers will guide in the formation of the community from the first meetings to the establishment of the cohousing association and the condominium
The community will design the common spaces with Homers whereas individual cohousers will design their private home with Homers
Homers will take care of the entire authorization process, up to the attainment of the building permit
Homers will accompany the cohousers in obtaining the mortgage for the purchase and for the renovation work
The community will buy the property directly from the original owner
Homers will contract the transformation of the property on behalf of the cohousers community
Homers will follow the work until the company delivers the property to the cohousers
The cohousers will enter the transformed property at the end of the refurbishment and take on direct management through a condominium (for the private spaces) and a common association (for the common spaces)
Shared spaces and private spaces
Homers will design your home with you listening to your needs
With Homers you can choose your future neighbors and define together the rules and shared spaces of the cohousing community. You will have the chance to explore many possibilities: a party area with a professional kitchen, a laundry, a bread oven, a laboratory for your hobbies, a wellness room and so on.
Homers makes it easier to access innovative and ecological houses that will become engines of the urban regeneration.

Homers cohousing always has a lower price per square meter than the average market price in the area.
Homers, based on the calculation methods developed by the Global Footprint Network, guarantees a decrease in the ecological impact of 1GHA (global hectare) for each family involved in our cohousing projects.
Homers contributes to urban regeneration through the recovery of an abandoned space and the integration of the cohousing space in the surrounding urban context. The cohousers organize events and activities open to the rest of the citizens.
Thanks to the work done with SocialFare e Tiresia we have developed a value chain that represents the social impact generated by Homers.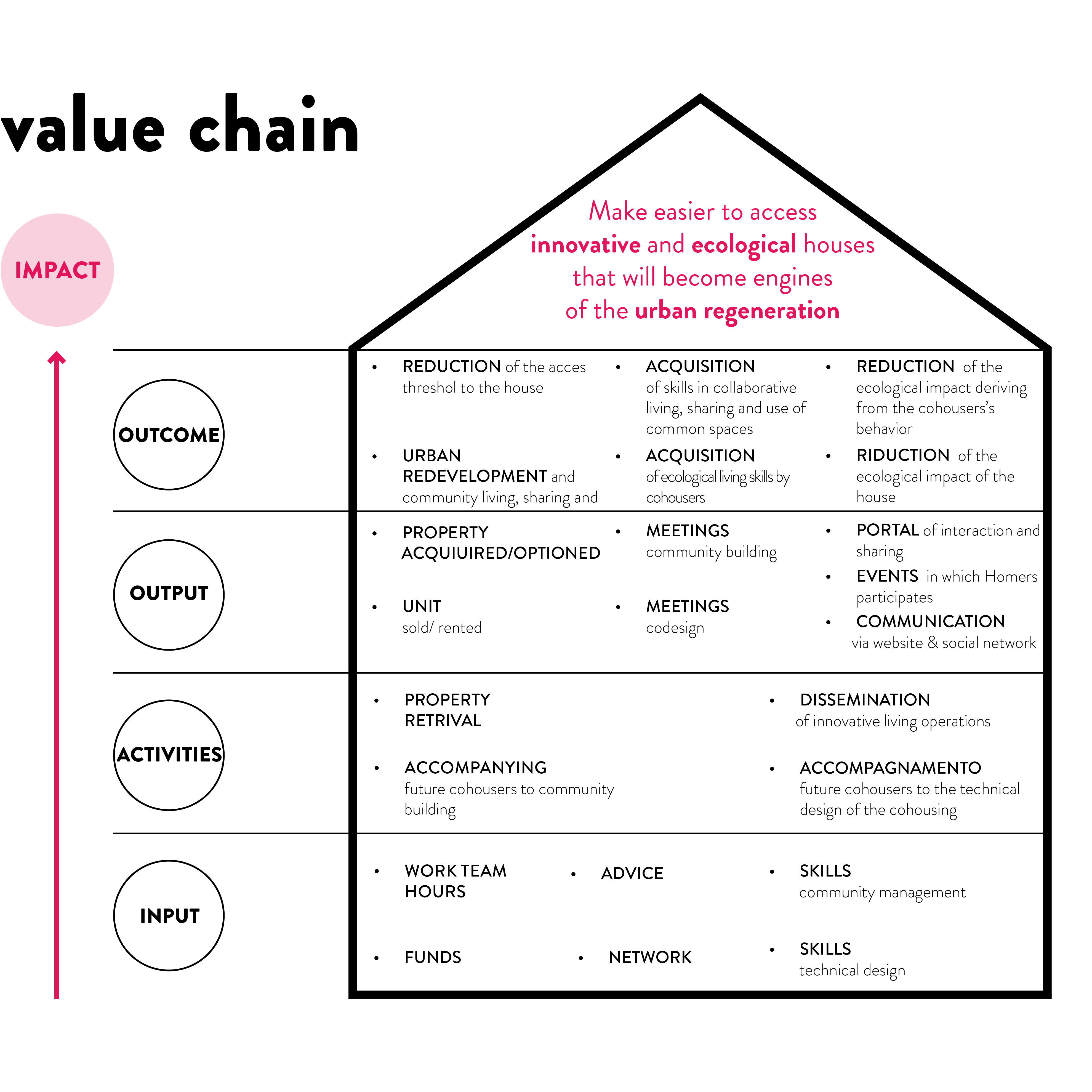 You have seen a property that you would like to transform into a cohousing?